Livernois stands apart from its competition for a number of reasons. We're uniquely qualified to work on a wide array of engines in various applications. With our extensive racing and development background we have decades of experience both winning at the track, as well as developing packages for OEM race teams and companies.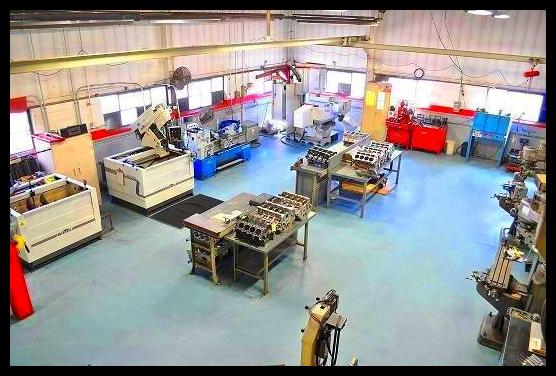 All of this experience goes into the different types of machine work that Livernois offers. Machining is a mix of science and skill, the combination of these things are essential to performing top notch work at an elite level. There are many shops out there that can "just get the job done", but Livernois is far more than just your local machine shop. Our decades of machining experience at the highest racing levels, coupled with extensive development with OEMs gives us a wealth of knowledge to work from that you just can't find anywhere else. Some shops might specialize in one engine, or engine type, but at Livernois, we specialize in every engine that we work on.
This means Ford, GM, Chrysler, Imports, Exotics, etc. We are one of the only companies that perform high end machine work across such a wide array of platforms, and our experts have the knowledge to handle just about any machining scenario, for any engine, for any application.
Services Include:
Engine Component Balancing
Cylinder Block Preparation

Milling
Boring
Honing
Align Honing
Clearancing for Stroker Crankshaft Assemblies
Connecting Rod Reconditioning
Piston Machining
Custom CNC Machining
Cylinder Head Machining

Milling
CNC Port Machining
CNC Valve Seat & Guide Machining
The central point of all the machine work that takes place on the engine block happens at the computerized block machining center.
The RMC V30 is 4-axis CNC that is capable of handling every aspect of block machine work. The block is placed on the machine and then probed to find it's existing locations. This data can then be compared to the GM factory blueprint to show just how close the block is to the blueprint. From there the block can be bored, decked and machined to exactly the factory blueprint locations +/- .0001. Factory GM blocks often measure +/- .004 from the blueprint. By utlilizing a CNC block machining center like the RMC V30 we're able to correct the factory machine work and ensure that the bores and machined surfaces are perfectly where they are supposed to be.
Livernois performs all machine work in house using a variety of different machines. The align honing of the main bores is handled with a Sunnen Align hone machine and the tolerance on the main bores is held to +/- .0001. The cylinder honing is handled on a Sunnen CV-616 automated honing machine. Cylinder honing is held to a +/- tolerance of .0001 for size, taper and out of round.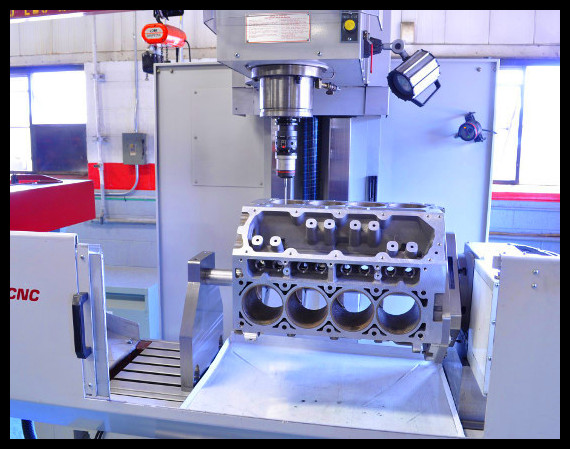 The cylinder wall finish is very important in producing an excellent ring seal as well as long ring life. The cylinder wall finish is measured using a sophisticated Mitutoyo Profilometer, which is capable of measuring the surface of the cylinder for numerous qualities such as Ra (Roughness Average), Rz, Rk, Rpk, Rvk, Mr1, Mr2. By utilizing the readings taken from the profilometer Livernois is able to create the perfect cylinder wall finish.
The LB 3000EX is built on Okuma's Thermo-Friendly Concept to ensure minimal thermal growth, and slanted box bed construction translates to unsurpassed quality and rigidity. Equipped with Okuma's high power, high torque PREX motor, this machine delivers high quality machining from heavy to high speed cutting.
The operator-friendly, open architecture control makes this machine not only easy to operate, but also to integrate with other peripheral equipment. A wide variety of bed lengths, bore sizes and options, including live tooling, sub-spindle and Y-axis, means there is a configuration to meet any shop's requirements.
Machine Shop prices are listed below. All listed prices may vary according to the custom nature of the work being performed.
Machining Capabilities and Specifications:
Mori Seiki Eco 1035
Table Size - 47.25" (1200mm) x 22.04 (560mm)
Jobs as large as 48" x 22" by 17" tall may be possible.
Travel X - 40.7" (1035mm)
Travel Y - 22.0" (560mm)
Travel Z - 20.1" (510mm)
Max. Spindle RPM 12000
Okuma MC40VA
Table Size - 39.37" (1000mm) x 20.47" (520mm)
Jobs as large as 48" x 20" by 16" tall may be possible.
Travel X - 30.0" (762mm)
Travel Y - 16.93" (430mm)
Travel Z - 17.22" (450mm)
Max. Spindle RPM 6000
Fadal VMC 6030
Equipped with Nikken 5 Axis CNC Rotary Table
Table Size - 62.5" (1588mm) x 30.0" (762mm)
Travel X - 60.0" (1524mm)
Travel Y - 30.0" (762mm)
Travel Z - 30.0" (762mm)
Max. Spindle RPM 10000
Deckel Maho DMU 80T
Table Size - 49.2" (1250mm) x 27.5" (700mm)
Travel X - 34.6" (880mm)
Travel Y - 24.8" (630mm)
Travel Z - 24.8" (630mm)
Max. Spindle RPM 12000
Measurement Equipment:
Romer Infinite 2.0, 8' arm
Design Software: MasterCam X7 with Port Expert
Solidworks 2012
Camplete port
Verisurf X
Services

Starting Price

Honing and Boring Services
Cylinder Hone Touch Up - No Deck Plates Nominal Size
$175.00
Cylinder Hone up to .010 - No Deck Plates Nominal Size
$200.00
Cylinder Hone - Deck Plates Nominal Size
$300.00
Cylinder Hone - Piston Fit to .0002 tolerance Deck Plates
$350.00
Cylinder Boring .030 over Max
$250.00
Cylinder Boring .030 to .060
$300.00
Align Honing and Boring Services
Align Hone 2 bolt block to Nominal bore size- No Bearing Clearances
$150.00
Align Hone 4 bolt block to Nominal bore size- No Bearing Clearances
$175.00
Align Hone Crossbolted block (Ex. Mod, LSx FE)- No Bearing Clearances
$225.00
Align Hone 2 bolt block with Bearing Clearances
$250.00
Align Hone 4 bolt block with Bearing Clearances
$300.00
Align Hone Crossbolted block (Ex. Mod, LSx FE)- with Bearing Clearances
$400.00
Align Bore to Nominal Bore Size
$550.00
Decking and Block Deburr Services
Deck Block- Cleanup Cut
$125.00
Deck Block- Max 30
$175.00
Deburr Block- Major surfaces and edges, oil passages, bottom of bores
$125.00
Deburr Block- Full Race Prep
$350.00
Block Sleeving and Cam Bearings
Install Sleeves-8 Sleeves installed and decked
$1,900.00
Install 1 Sleeve 1 Sleeve installed decked
$450.00
Install Roller Cam Bearings
$800.00
Install and Remove Cam bearings- Regular bearings
$95.00
Miscellaneous Block Procedures
Wash and Degrease Block- must be bare block
$85.00
Burn and Blast Block
$125.00
Measure and Inspect Block-Bore Size, Main Bore Size, Deck Height
$175.00
Piston and Rod Procedures
Remove rods from Pistons- Press Fit
$85.00
Remove rods from Pistons- Full Floating
$50.00
Pin Fit Rods- .003 max stock removal
$75.00
Pin Fit Rods-.003-.005
$85.00
Pin Fit Pistons-.003 max stock removal
$75.00
Pin Fit Pistons-.003-.005
$85.00
Rod Bearing Clearances- clearances done to .0002 tolerance
$225.00
Head and Intake Machining Operations
Mill intake surfaces max .030 - no china wall
$170.00
Mill intake surfaces max .030 and china wall
$212.50
Mill Cylinder Heads max .010
$85.00
Mill Cylinder Heads max .030
$106.25
Add Fuel Injection Bosses
Custom Per Job
Cylinder Head Operations
Valve Job- 16 Ports 3 angle with lapping
$127.50
Valve Job- 24 Ports 3 angle with lapping
$148.75
Valve Job- 32 Ports 3 angle with lapping
$212.50
Dissasemble Heads and degrease
$170.00
Assemble Heads- must be clean or new heads
$170.00
Install Guides- 16 Guides and hone to size
$170.00
Install Guides- 24 Guides and hone to size
$212.50
Install Seats- 24 Seats and Valvejob
$340.00
Install Seats- 32 Seats and Valvejob
$382.50
CC Chamber
$42.50 (first chamber - $21.25 for each additional chamber)
Flow Test Cylinder Heads- 1 intake and 1 exhaust port
$85 (first port - $42.50 each additional port)